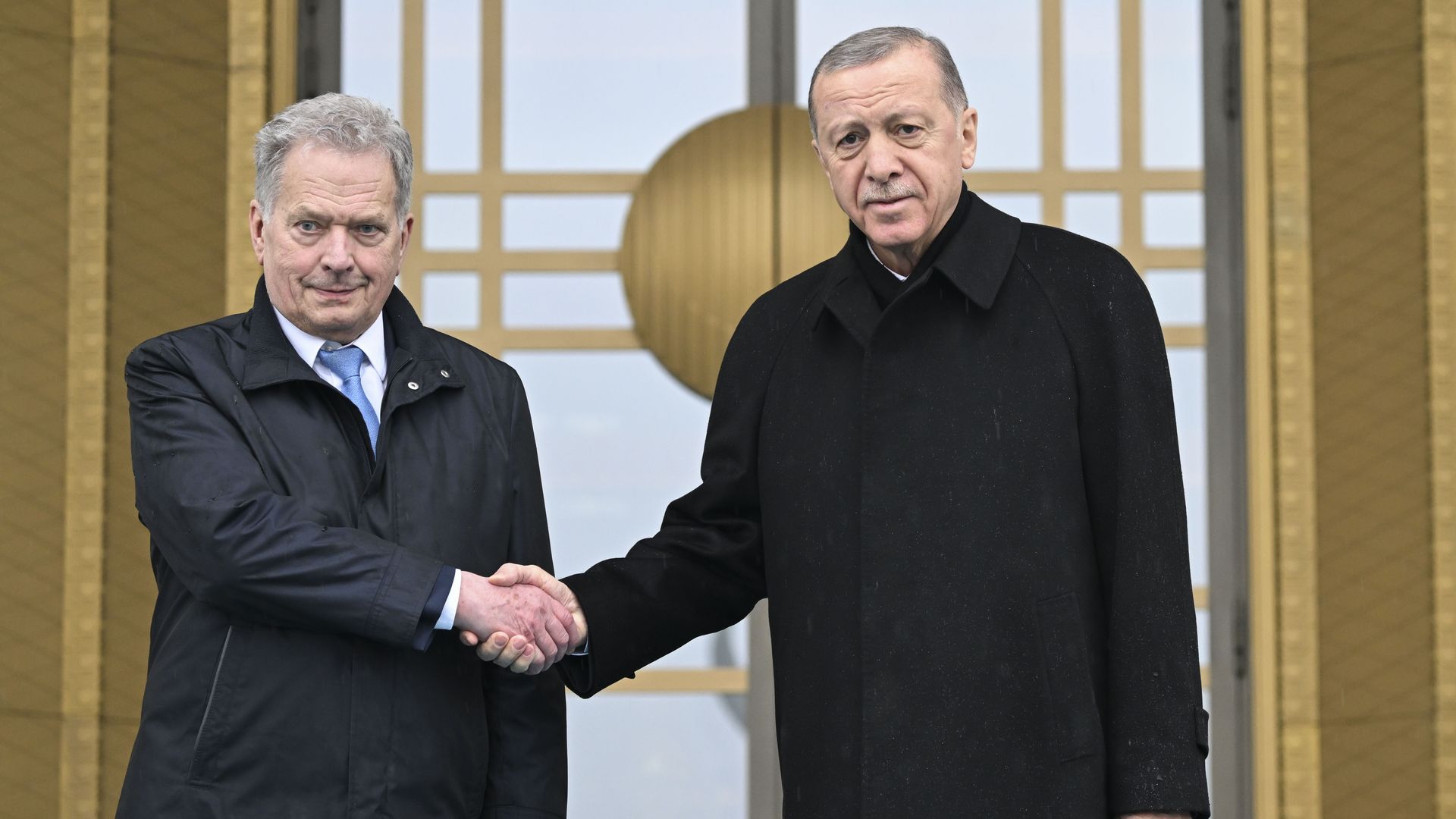 Turkish President Recep Tayyip Erdoğan and Finnish President Sauli Niinisto in Ankara. Photo: Sansar/Anadolu Agency via Getty Images
Turkey announced on Friday plans to ratify Finland's decision to join NATO, a major step toward the alliance adding its 31st member.
Driving the news: "We decided to start the ratification process in our Parliament for Finland's membership," Turkish President Recep Tayyip Erdoğan told a news conference Friday, according to a translation from The New York Times.
The announcement came after Erdoğan met with Finnish President Sauli Niinisto in Ankara, Turkey.
Erdoğan said he hoped Turkey will complete the process by the country's mid-May elections, Bloomberg reports.
Context: Turkey's Parliament must ratify Finland's membership into NATO, which requires unanimous approval from the nations within it, NYT reports.
Hungary is the only other NATO member that has not ratified Finland's bid. Prime Minister Viktor Orbán has delayed a vote on Finland and Sweden joining NATO despite his party's support.
The big picture: Finland and Sweden handed over their NATO applications last May, looking to join the defensive alliance after Russia's unprovoked invasion of Ukraine.
Though Finland's move has Erdoğan's approval, he has expressed concerns about Sweden's membership bid, saying the Nordic country should take a tougher stance against Kurdish separatists, per the NYT.
Yes, but: Finland's Niinisto said that the "Finnish NATO membership is not complete without Sweden," per Bloomberg.
"We have so much common interest having been neighbors and having the Baltic Sea area on our shore," he said.
Go deeper: Why NATO formed and why Finland and Sweden want to join the alliance
Source: Read Full Article