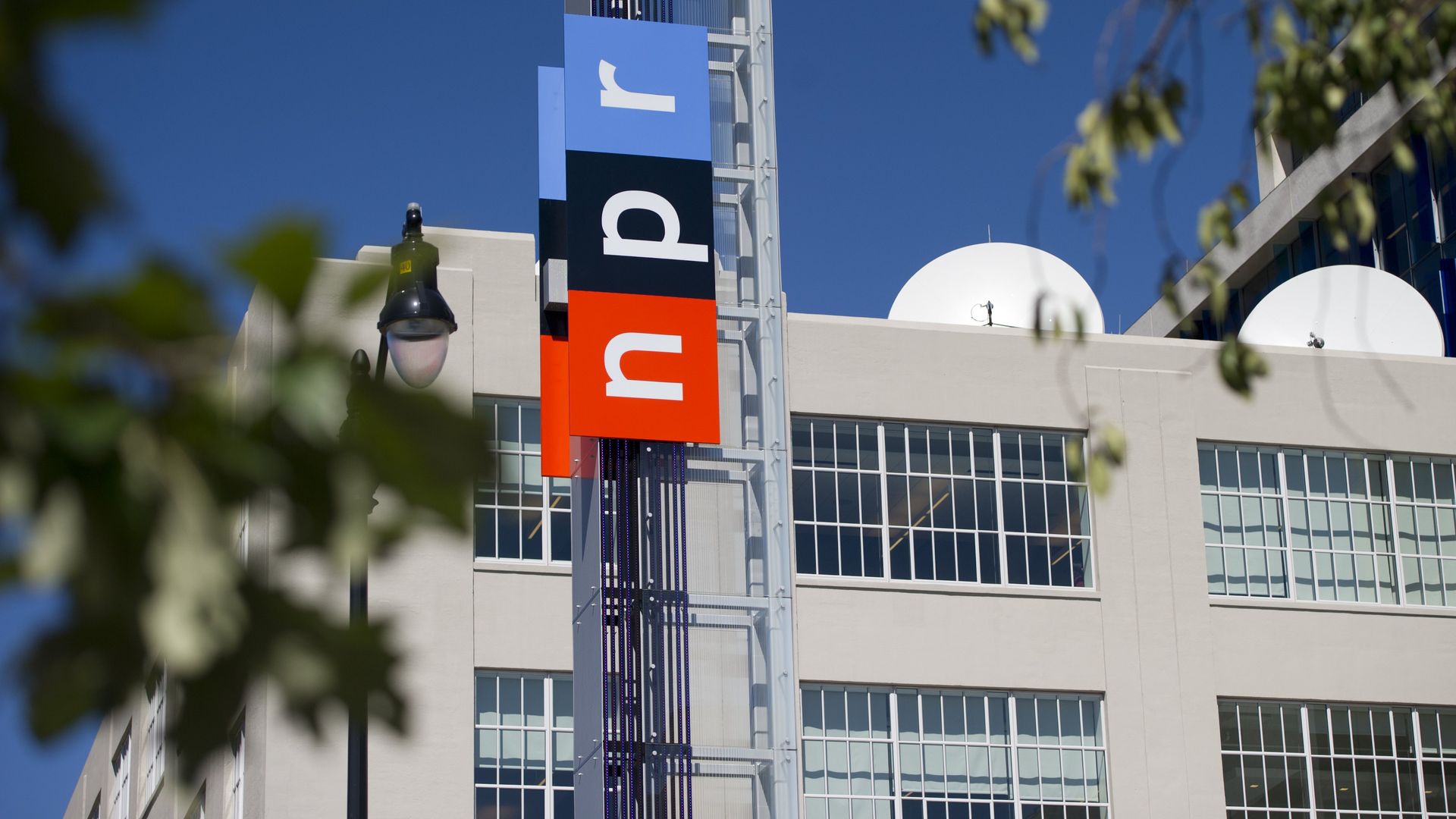 NPR's headquarters in Washington, D.C. Photo: Saul Loeb/AFP via Getty Image
NPR CEO John Lansing condemned Twitter on Wednesday for labeling the radio giant as "US state-affiliated media."
The big picture: Twitter's move appears to be part of a wider effort by Musk to go after specific news outlets.
Twitter removed the New York Times' "verified" blue check mark over the weekend after the outlet said it would not pay to remain verified.
Many news outlets have said that they won't pay for verification, but the Times was the only outlet to have its blue check mark removed immediately when the policy went into effect.
Musk made it clear shortly after how he personally feels about the Times, tweeting on Sunday: "The real tragedy of @NYTimes is that their propaganda isn't even interesting."
Zoom in: Twitter's own policies currently state that state-financed media organizations with editorial independence "are not defined as state-affiliated media" for the purposes of its policy."
What's happening: A new "US state-affiliated media" label appeared suddenly on NPR's main account Tuesday night. An NPR spokesperson said the outlet was given no warning and that it reached out to Twitter to have the label removed.
On Wednesday morning, Lansing said in a statement that NPR was "disturbed" to see the label, given that NPR doesn't qualify as state-affiliated media by Twitter's own guidelines.
"NPR and our Member stations are supported by millions of listeners who depend on us for the independent, fact-based journalism we provide. NPR stands for freedom of speech and holding the powerful accountable," he said.
"It is unacceptable for Twitter to label us this way. A vigorous, vibrant free press is essential to the health of our democracy."
Between the lines: Only NPR's main handle had the label as of Wednesday afternoon, not affiliated accounts like NPR Politics.
Be smart: The U.S. does have a state-affiliated media arm called the U.S. Agency for Global Media (USAGM). USAGM oversees two federal networks, Voice of America (VOA) and the Office of Cuba Broadcasting (OCB).
It also oversees four grantees, including Radio Free Europe/Radio Liberty (RFERL), Radio Free Asia (RFA), Middle East Broadcasting Networks (MBN) and the Open Technology Fund (OTF).
As of Wednesday morning, none of those entities included "US state-affiliated media" labels.
PBS, the public broadcaster, also receives federal funding but didn't have labels on its accounts.
The bottom line: From its shift to pay-for-play to impulsive policy changes, Twitter more resembles an intrigue-filled palace than the town square that Musk says he seeks to protect, Axios' Ina Fried writes.
Source: Read Full Article