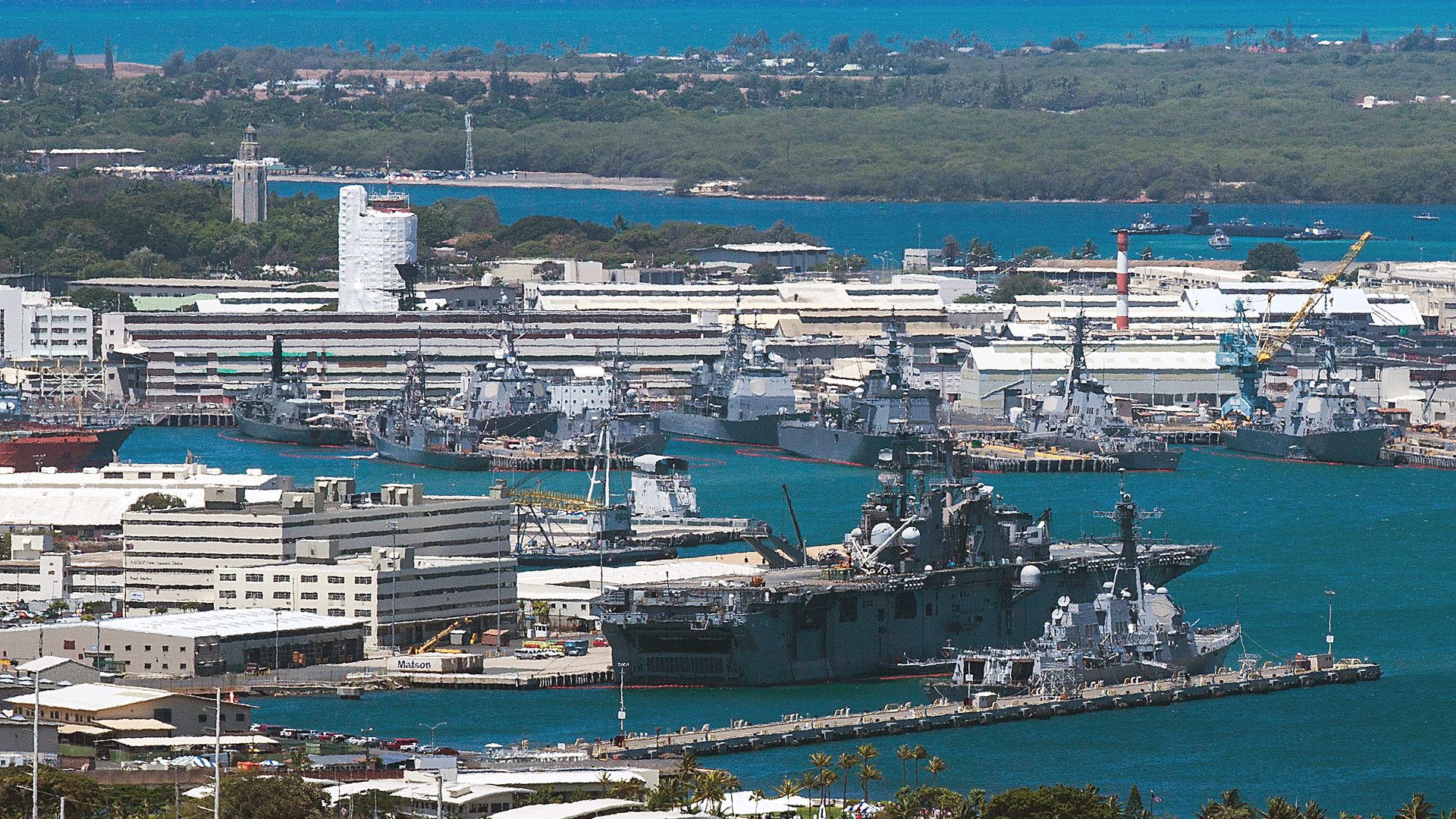 Joint Base Pearl Harbor-Hickam in June, 2012, in Pearl Harbor, Hawaii. Photo: Kent Nishimura/AFP/GettyImages
A November 2021 leak at a World War II-era bulk fuel storage facility that contaminated the water system of an Oahu military base forced thousands of people from their homes.
Driving the news: Attorneys representing more than 100 plaintiffs in a lawsuit against the U.S. government over water contamination from the leak alleged in an amended complaint filed on Monday that residents weren't warned of their exposure to antifreeze and other additives in the jet fuel.
A Feb. 2, 2023, internal memo from the Hawaii Department of Health (HDOH) given to Axios by attorneys in the case evaluated that military and civilian families in the area at the time of the spill may have also been exposed to diethylene glycol monomethyl ether — an icing inhibitor that's added to aviation fuels — and other fuel additives.
A HDOH official wrote in the memo that the deicing agent "could pose the most significant health risk from exposure to contaminated water."
Why it matters: The plaintiffs allege they suffered physical, mental and emotional damage from the contaminated water supply.
How it works: The Red Hill Bulk Storage Facility is the largest underground fuel storage facility in the U.S. with a storage capacity of 250 million gallons, according to the Environmental Protection Agency.
The facility stores three types of fuel: JP-5 and JP-8 — two types of jet fuel — and diesel marine fuel.
The facility is located near the Waimalu and Moanalua Aquifers, two underground water sources for both Joint Base Pearl Harbor-Hickam and the city of Honolulu.
The Joint Base Pearl Harbor-Hickam water system provides water to roughly 9,700 civilian and military households and other buildings, including schools and workplaces.
What happened: On Nov. 20 2021, a worker driving a train cart at the facility accidentally struck and raptured a valve to a fire suppression system that was filled with JP-5 jet fuel, according to the Navy's investigation into the spill.
The fire suppression system had been filled with fuel for around six months as a result of a prior spill on May 6, 2021, that was unknowingly taken up by the system's sump pumps.
The spill released up to 19,377 gallons of JP-5 jet fuel, 5,542 gallons of which went unrecovered.
Water samples taken from the well in December 2021 contained diesel fuel 350 times the state's safe level.
The HDOH issued a drinking water advisory on Nov. 30., 2021, — 10 days after the spill — which remained in effect until March 18, 2022.
Thousands of families temporarily moved from their homes near or on Joint Base Pearl Harbor-Hickam because of the leak and contamination.
In May 2022, the Centers for Disease Control and Prevention published a study of self-reported symptoms from 2,289 people who were in the affected area after the spill.
A majority of participants in the study said they potentially ingested contaminated water through oral hygiene, drinking and cooking.
87% of participants said they experienced one or more new or worsened symptoms after the incident, and 75% said the symptoms lasted at least 3o days or more.
The participant's reported symptoms related to their nervous system, gastrointestinal system, skin, ears, noses, throats, mental health, eyes and respiratory systems.
At least 853 participants sought medical care after the incident, 17 of whom were hospitalized overnight.
Medical care was sought by 853 (37%) of participants after the incident, including 17 who were hospitalized overnight.
What they're saying: "This amended lawsuit adds to the story of government that poisoned its people, failed to treat them, and told sick families they were not sick," Kristina Baehr, an attorney representing some of the families in the lawsuit, said in a statement.
"These families still do not know what exactly was in the water they ingested and bathed in for months," she added.
The big picture: The Department of Defense announced in March 2022 that it would permanently close the Red Hill Bulk Storage Facility after it is fully de-fueled.
Go deeper: The Pentagon's multibillion-dollar "forever chemicals" problem
Source: Read Full Article