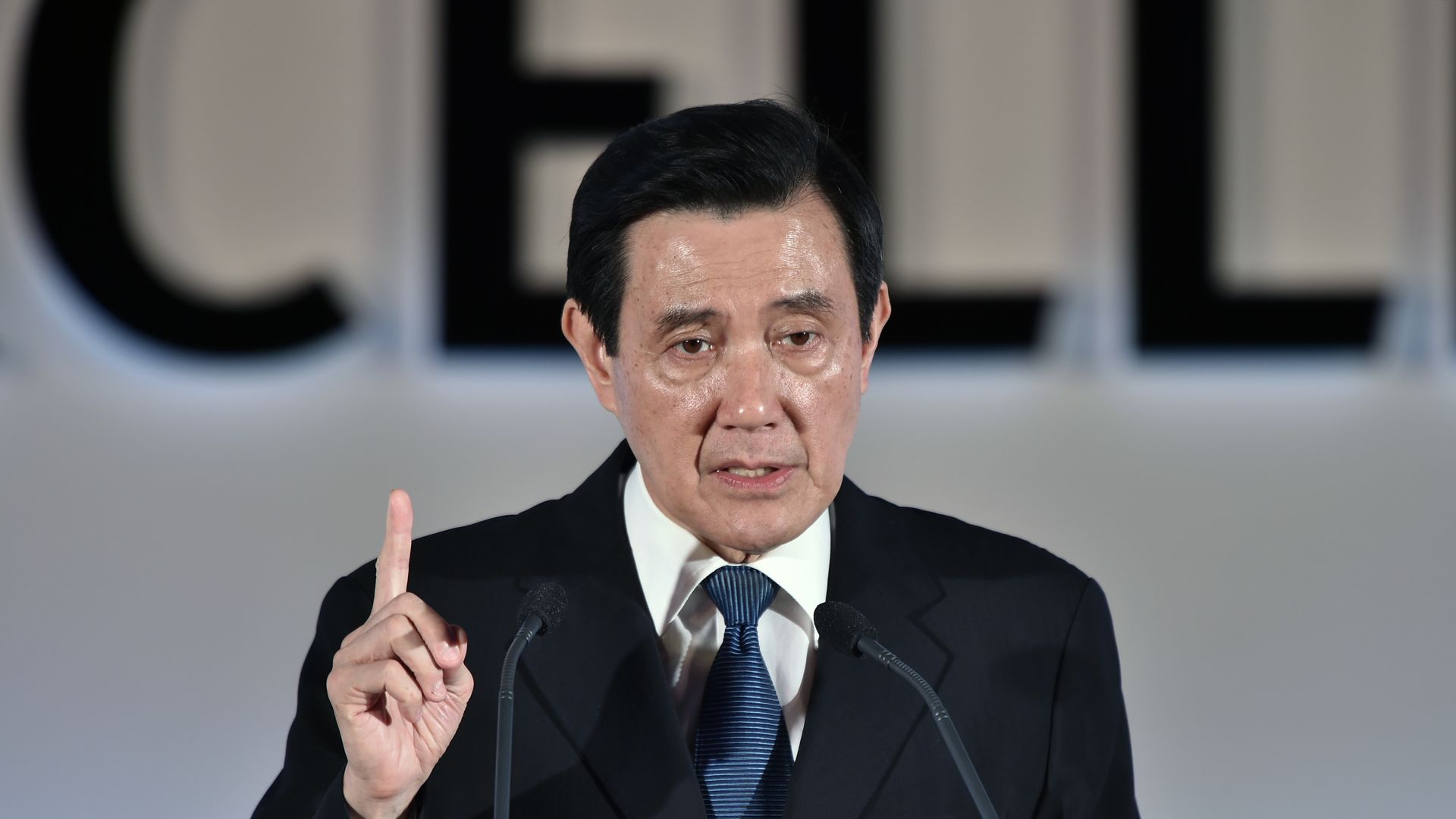 Former Taiwan president Ma Ying-jeou plans to visit China next week, but his itinerary will not include Beijing. Photo: Sam Yeh/AFP via Getty Images
Former Taiwanese President Ma Ying-Jeou will make a landmark visit to China next week — the first such trip by a former Taiwanese leader since the end of the Chinese civil war in 1949.
The big picture: Ma will not visit Beijing and didn't arrange any political events, but he will "suit the convenience of the host" if Chinese officials wish to meet him during his 12-day trip, Hsiao Hsu-tsen, the director of the Ma Ying-jeou Foundation told reporters on Monday.
Tensions between Taipei and Beijing have escalated since then-U.S. House Speaker Nancy Pelosi made a historic visit to Taiwan last year. The Chinese military conducted live-fire drills around the island for days, and Taiwan vowed to deepen military ties with the U.S.
The backstory: Ma, a senior member of the opposition Kuomintang party who served as Taiwan's president between 2008 and 2016, promoted stronger economic ties between the self-ruled island and Beijing.
The cross-strait relations sharply deteriorated after the nationalist Democratic Progressive Party (DPP) took power in 2016, which emphasized Taiwan's sovereignty and bolstered its ties with Washington.
Details: From March 27 to April 7, Ma will lead a delegation of Taiwanese academics and students for a visit to several southern Chinese cities, including Nanjing, Wuhan, Changsha, Shanghai and Chongqing, where the youth will interact with their Chinese counterparts, Hsiao said.
Ma will also pay respects to his ancestors in Hunan province ahead of Tomb Sweeping Day on April 5, Hsiao added.
What they're saying: Beijing welcomed Ma's visit to the mainland and is willing to provide necessary assistance, China's Taiwan Affairs Office said in a statement.
"He's not really representing the government to go and negotiate, I think he just wants to transmit the idea of peaceful exchange," Kao-cheng Wang, a professor at Taiwan's Tamkang University, told AP about Ma's plan to bring students.
Between the lines: Ma's trip to China will overlap with Taiwanese President Tsai Ing-wen's stopover in the U.S. on her way to Central America.
Hsiao said the overlap is a coincidence since Ma had already planned his trip ahead of the Lunar New Year and wasn't aware of Tsai's itinerary.
Taiwan's presidential office said Ma had notified Tsai of his plans and it hoped that as a former head of state, Ma "can show the value of Taiwan's democracy and freedom and the position of equality and dignity in cross-strait exchanges."
Source: Read Full Article