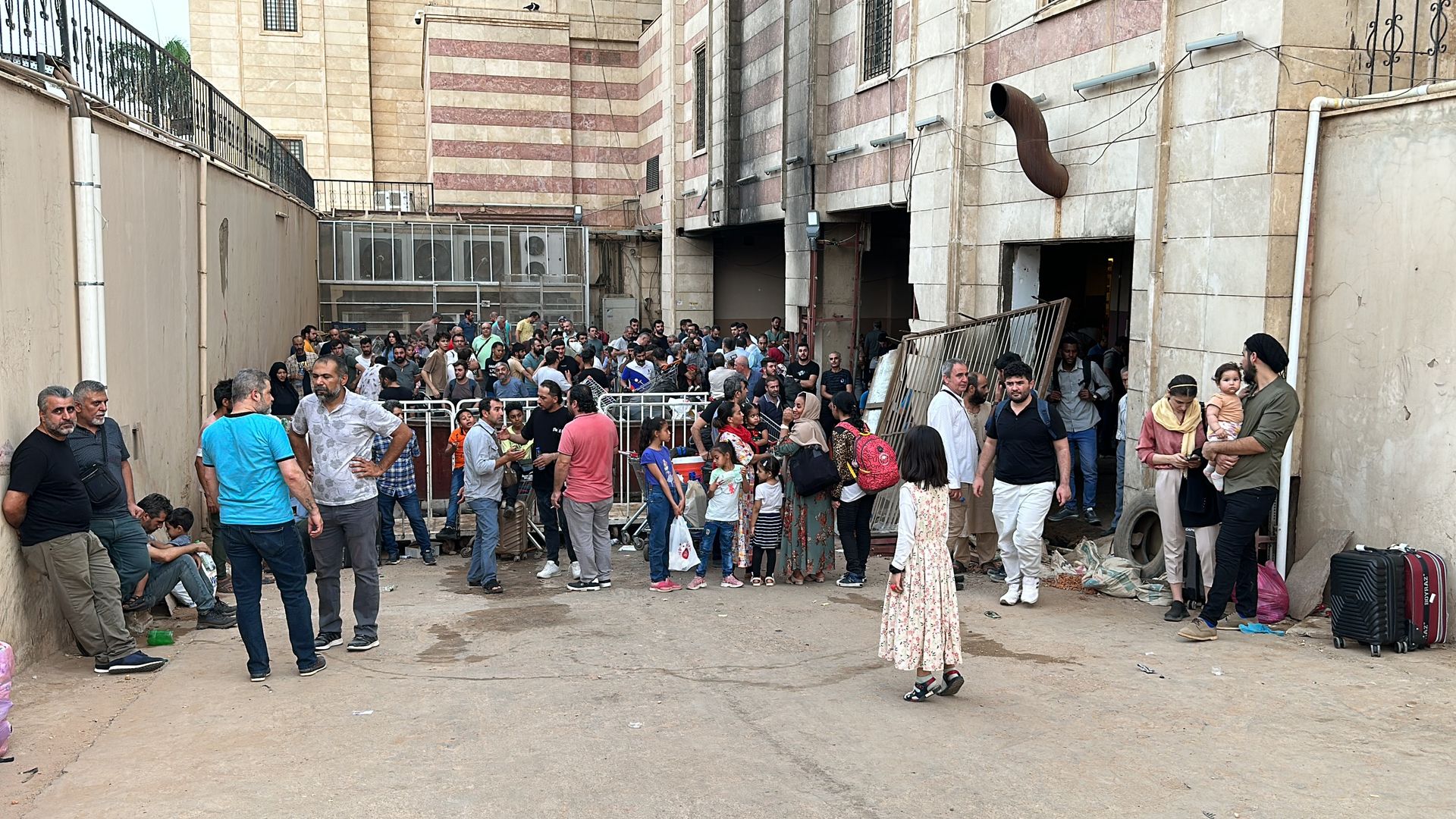 Turkish citizens in Sudan's capital, Khartoum, await evacuation from the country on Sunday. Photo: Omer Erdem/Anadolu Agency via Getty Images
More governments have joined the U.S. in evacuating diplomatic staff from Sudan, as fighting between the Sudanese military and a powerful paramilitary group entered a ninth day Monday.
The big picture: Canada, the U.K., France, Germany, Italy, Spain, Egypt and Turkey were among the governments to announce evacuations from Sudan on Sunday, as officials expressed concern for foreigners still in the country who do not work in the diplomatic service.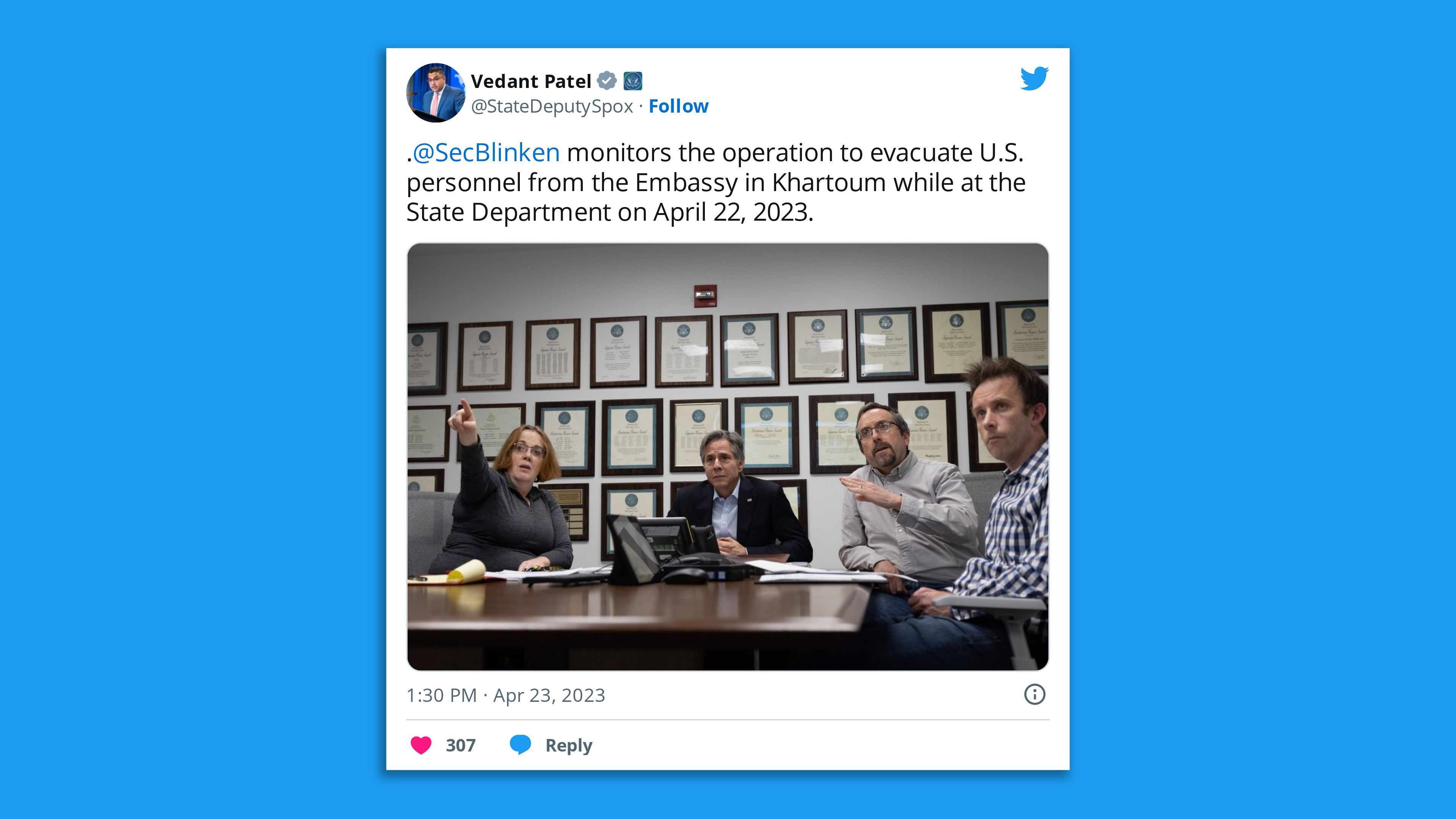 By the numbers: The Central Committee of Sudanese Doctors has confirmed 273 deaths from the fighting as of Monday.
The CCSD noted that the toll was likely to be higher, as healthcare access was difficult due to the fighting.
Zoom in: Sen. Chris Coons(D-Del.) told CBS' "Face the Nation" he's "concerned about the safety and security" of an estimated 16,000 U.S. nationals "who've been serving in humanitarian missions or in other ways" across the Sudan.
The shuttering of the American embassy and the evacuations was a temporary, said Coons, who's a member of the Senate Foreign Relations Committee and its Africa subcommittee.
The UN and countries including the U.S. "will do their best to help return to civilian rule to end the fighting to support a stabilization in Sudan," Coons added.
What we're watching: ""In the coming days, we will continue to work with the State Department to help American citizens who may want to leave Sudan," said Christopher Maier, the assistant secretary of defense for special operations and low-intensity warfare, in a statement Saturday.
"One of those ways is to potentially make the overland routes out of Sudan potentially more viable," Maier added, noting the Defense Department was considering the possible "use of intelligence, surveillance and reconnaissance capabilities to be able to observe routes and detect threats."
Zoom out: There's been intense fighting in Sudan since April 15 between the Sudanese military, headed by Gen. Abdel Fattah al-Burhan, and the Rapid Support Forces (RSF) militia, led by Gen. Mohamed Hamdan Dagalo — known as Hemedti.
The pair led a 2021 military coup that derailed the transition to democracy that began after the ouster of long-time ruler Omar al-Bashir in a popular uprising in 2019.
Their relationship deteriorated following disagreements, particularly after the military, RSF and a coalition of civilian parties last December signed a preliminary political deal in which the military agreed to hand over power.
Of note: Saudi Arabia was the first nation to announce evacuations on Saturday.
President Biden thanked the Gulf country later that night, along with the American military and Djibouti and Ethiopia, for being "critical to the success of our operation" to evacuate U.S. Government personnel from Khartoum.
Source: Read Full Article