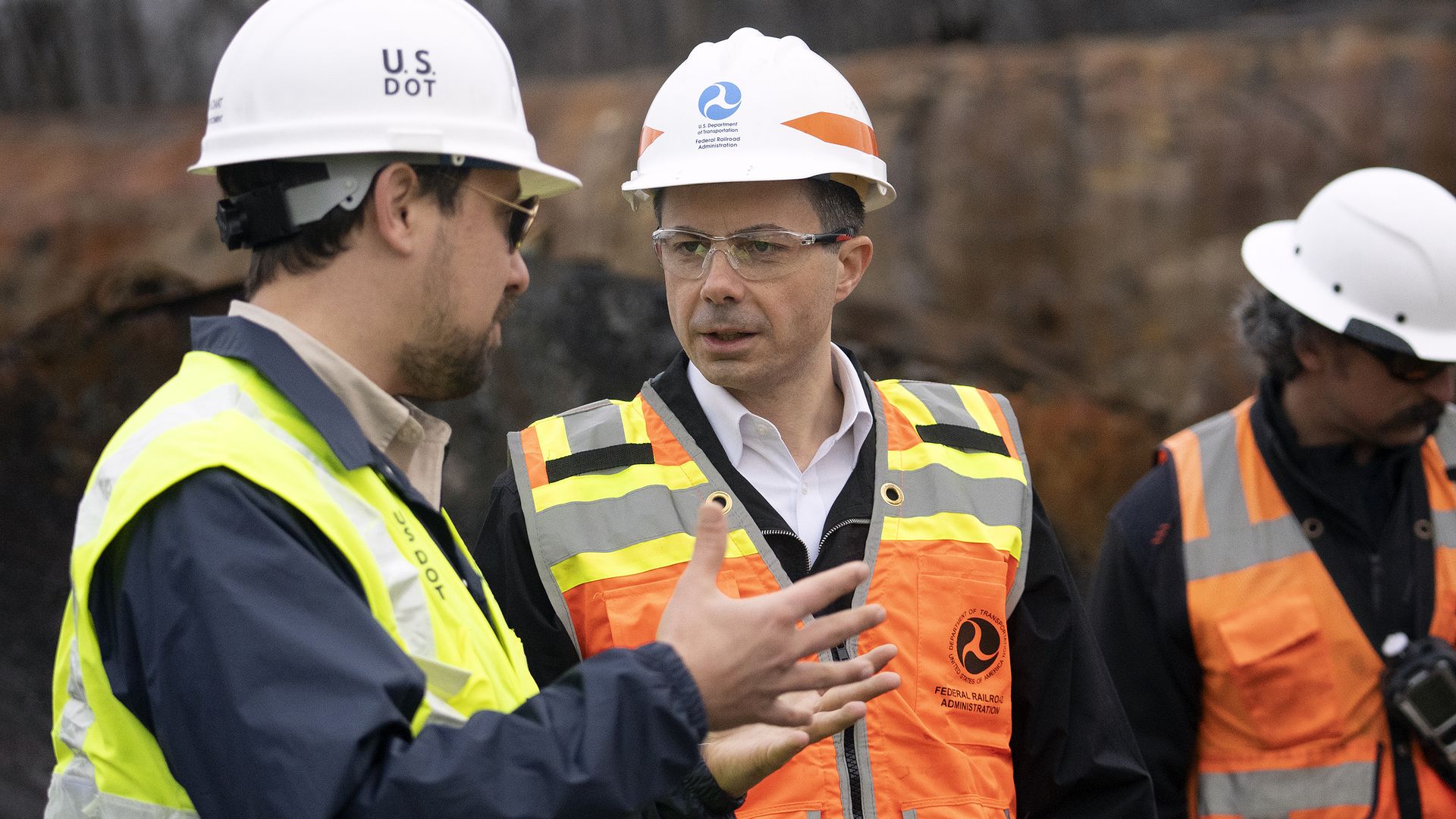 U.S. Secretary of Transportation Pete Buttigieg visits the site of the East Palestine, Ohio, train derailment on Feb. 23. Photo: Brooke LaValley-Pool/Getty Images
Railroad union leaders are claiming that rail workers are falling ill at the site of the East Palestine, Ohio, toxic freight train derailment, according to a letter sent to government officials on Wednesday.
The big picture: The union that represents workers on Norfolk Southern Railroad, the rail operator of the train that derailed last month alleges that workers at the cleanup site are getting sick with "migraines and nausea" and are not being provided necessary protective equipment.
The American Rail System Federation (ARSF) of the International Brotherhood of Teamsters (BMWED) sent the letter to the Department of Transportation, the Federal Railroad Administration, East Palestine Mayor Trent Conaway, Transportation Secretary Pete Buttigieg and Ohio Gov. Mike DeWine (R).
Details: The ARSF claimed that Norfolk Southern was not providing personal protective equipment including respirators, rubber overboots and rubber gloves to workers dealing with the spilled chemicals as part of the company's "cost-cutting business model."
"When some of the NS Workers inquired about the appropriateness of their personal protective equipment and the safety of their working conditions, they would receive little or no response from NS officials," Jonathan Long, the General Chairman of the ARSF wrote in the letter, obtained by CNBC.
What they're saying: A Norfolk Southern said in an emailed statement that the company was "on-scene immediately after the derailment and coordinated our response with hazardous material professionals who were on site continuously to ensure the work area was safe to enter and the required PPE was utilized, all in addition to air monitoring that was established within an hour."
State of play: Union heads met with Buttigieg and FRA Administrator Amit Bose on Wednesday to discuss the derailment, aftermath and needed safety improvements.
"Safety is always our number one priority, and the Norfolk Southern derailment reminds us of the importance of ensuring no industry can put its profits over the safety of its workers and the communities it serves," Buttigieg said.
Flashback: The Norfolk Southern train carrying hazardous materials derailed on Feb. 3, forcing hundreds of residents to evacuate the area and raising concerns over potential health and environmental risks.
East Palestine residents have since been reporting headaches and nausea, as well as diagnoses of chemical bronchitis and other health conditions.
For the record: The Environmental Protection Agency has said it did not detect any "levels of concern" of hazardous substances released during or after the crash.
Source: Read Full Article