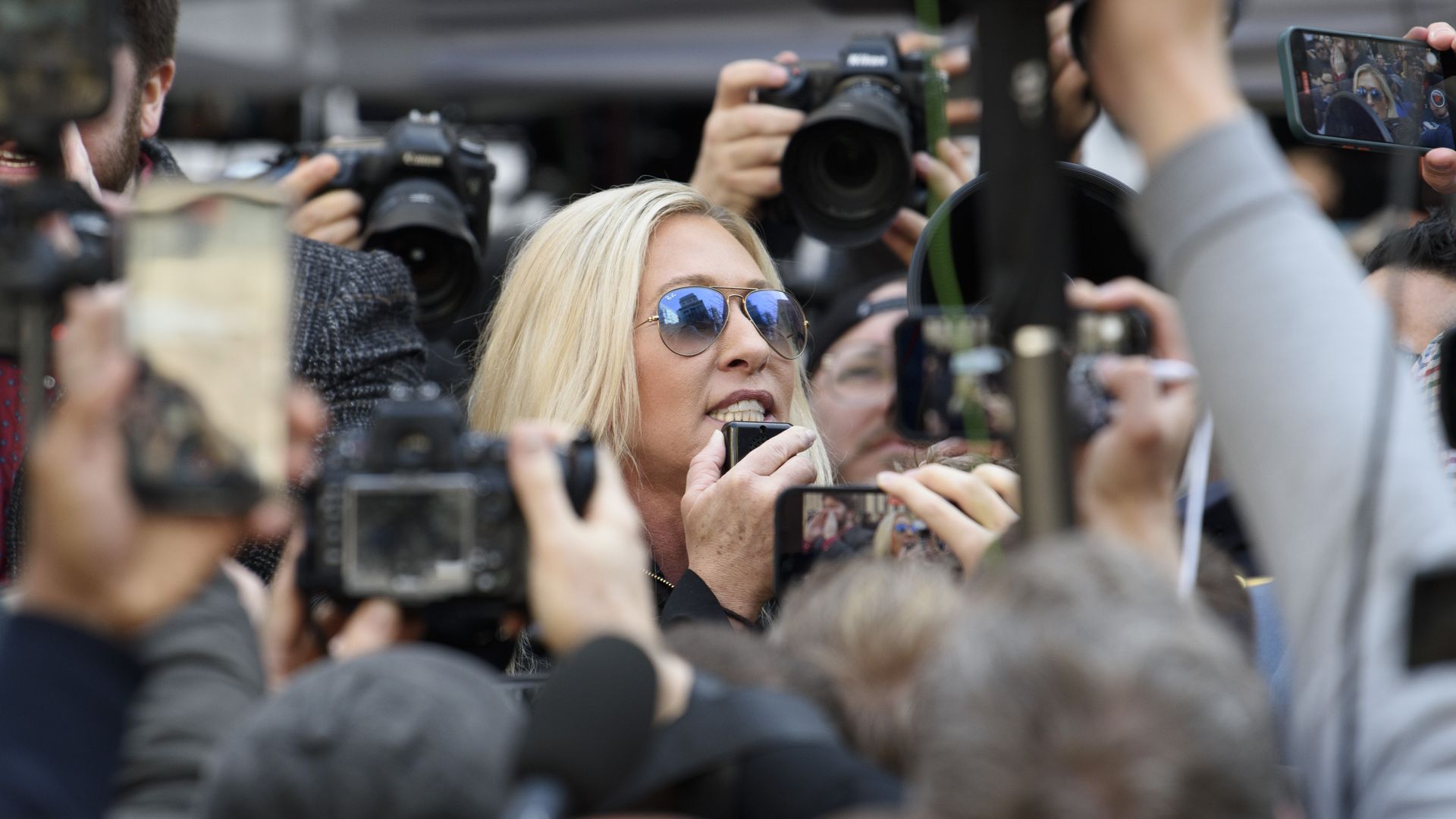 Marjorie Taylor Greene during a rally in support of Donald Trump in New York, on April 4. Photo: Javier Alvarez/Bloomberg via Getty Images
Reps. Marjorie Taylor Greene (R-Ga.) and George Santos (R-N.Y.) appeared in Manhattan Tuesday in support of former President Donald Trump ahead of his expected arraignment.
Driving the news: The Georgia firebrand and close Trump ally told a crowd she had come to "protest this unprecedented abuse of our justice system and election interference," per NBC New York.
Pro-Trump and anti-Trump protesters gathered Tuesday nearby the Manhattan courthouse days after the former president's historic indictment, per NBC News.
Santos also made a brief appearance. The embattled Long Island Republican expressed support for Trump and criticized Democrat Manhattan DA Alvin Bragg, who convened a grand jury to investigate the president.
"It's a bad day for democracy," Santos said. "This starts a precedent that, what's to stop the next prosecutor?"
Video from the scene showed security and police struggling to escort Greene through the chaotic crowd. Other video showed Santos surrounded by media.
Even once Greene had entered a vehicle, some protesters continued to bang on the windows until the car pulled away, the New York Times reported.
Of note: Most Americans approve of the indictment ofTrump — but a plurality also believes that politics played at least some role, recent polls show.
The big picture: While Trump's indictment has enticed some prominent Republicans to jump into the anti-Trump lane, the GOP has largely united around him.
Go deeper:
What's next legally for Trump after indictment
Trump's surreal surrender
Trump's bigger legal danger
Source: Read Full Article