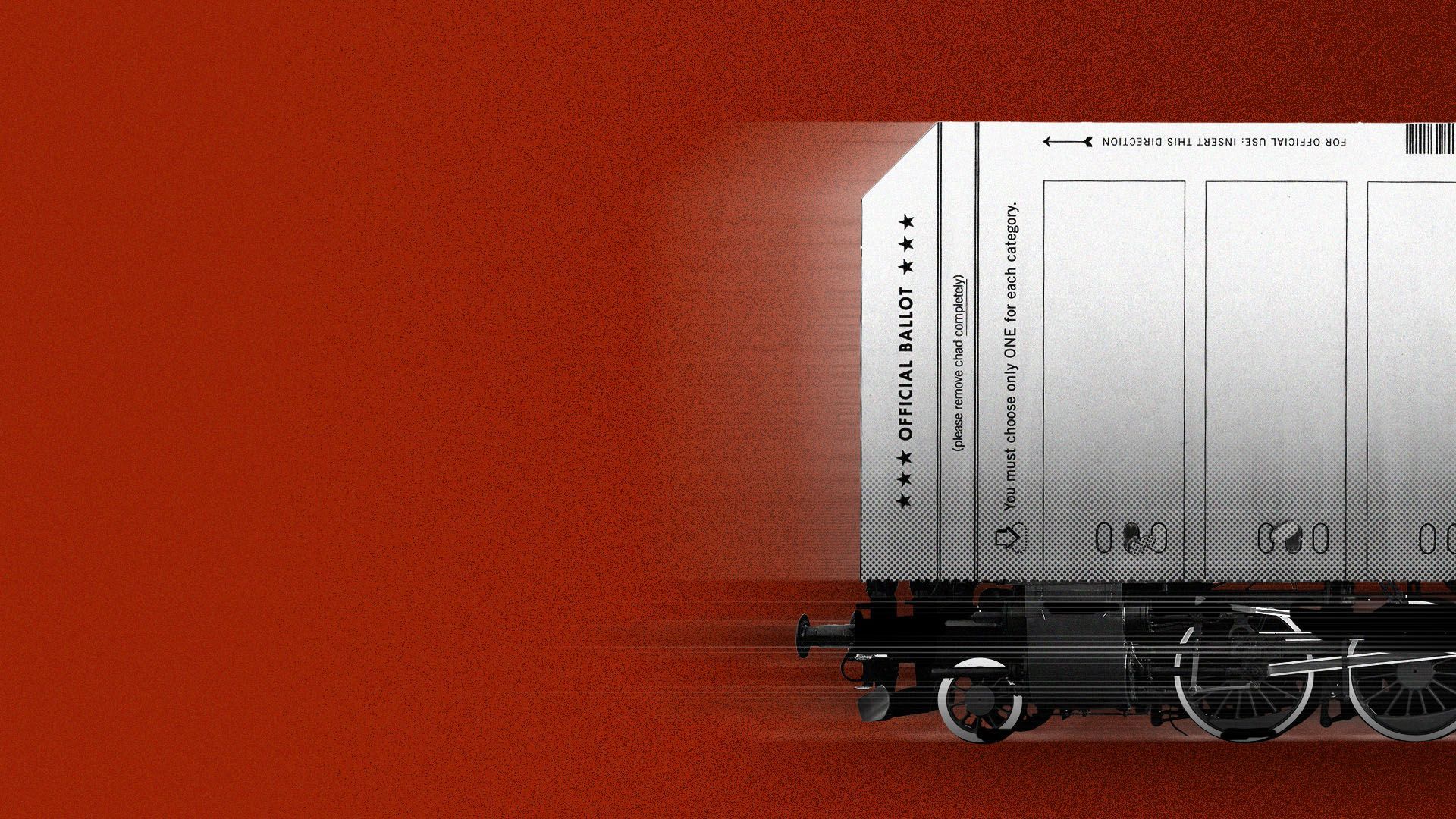 Illustration: Allie Carl/Axios
Top Republicans are in a state of paralysis over abortion, watching — with one eye on the 2024 ballot box — as a cascade of new restrictions threaten to dig the party into a political hole.
Why it matters: The Supreme Court's reversal of Roe v. Wade last summer was a huge victory for the GOP, but the backlash to new abortion restrictions has been furious — and could box Republicans into defending rigid, unpopular policies in next year's elections.
That backlash already helped drive Democrats' over-performance in the 2022 midterms and their landslide victory in last week's Wisconsin Supreme Court race, a campaign that focused squarely on abortion rights.
As conservative judges have begun to further limit reproductive rights, Democrats are on the attack — and many Republican leaders have gone quiet.
Driving the news: Three days after a federal judge in Texas suspended the FDA's approval of the abortion pill mifepristone, just one Republican senator — Cindy Hyde-Smith of Mississippi — had publicly expressed support for the explosive ruling.
Former Vice President Mike Pence was the sole potential 2024 presidential candidate to issue a statement praising the ruling, calling the FDA's approval of the drug a "20-year wrong."
Former President Trump, who has long viewed abortion as a political loser for Republicans, was silent — as was his chief GOP rival, Florida Gov. Ron DeSantis.
The other side: Democrats seized on the ruling to paint Republicans as extremists on abortion — a tactic that has paid enormous dividends during the past year.
Rep. Pat Ryan (D-N.Y.) introduced legislation on Monday that would reassert the FDA's authority to approve medications. He invited all members — including the House's 19 Biden-district Republicans — to co-sponsor the bill.
"Every single Republican in office is going to have to take a position on what just happened. There's nowhere to hide," former Planned Parenthood CEO Cecile Richards, who now co-chairs a Democratic super PAC, told The 19th.
The intrigue: Rep. Nancy Mace (R-S.C.) called for the FDA to ignore the mifepristone ruling, telling CNN that abortion is "an issue that Republicans have been largely on the wrong side of."
Between the lines: Polls since the Supreme Court overturned Roe v. have consistently shown that the majority of Americans believe abortion should be legal in all or most cases. On access to abortion medication such as mifepristone, the debate is even more lopsided.
72% of Americans oppose laws that would make it illegal to obtain abortion pills, according to a poll by the Public Religion Research Institution.
What we're watching: The GOP's political headaches over abortion are not going away, especially with prolonged media coverage of the mifepristone legal fight and a wave of unpopular new abortion restrictions coming at the state level.
In Florida, DeSantis is soon expected to sign a bill changing the state's abortion ban from 15 weeks of pregnancy to six weeks — before some women know they're pregnant.
The move is partly intended to bolster his support with the GOP's conservative base, but could backfire if DeSantis winds up being the Republican nominee and has to attract moderate voters in a general election.
The bottom line: As much as Republicans celebrated the Supreme Court's overturning of Roe as the culmination of decades of conservative activism,they could be paying the price at the ballot box for years to come.
Source: Read Full Article