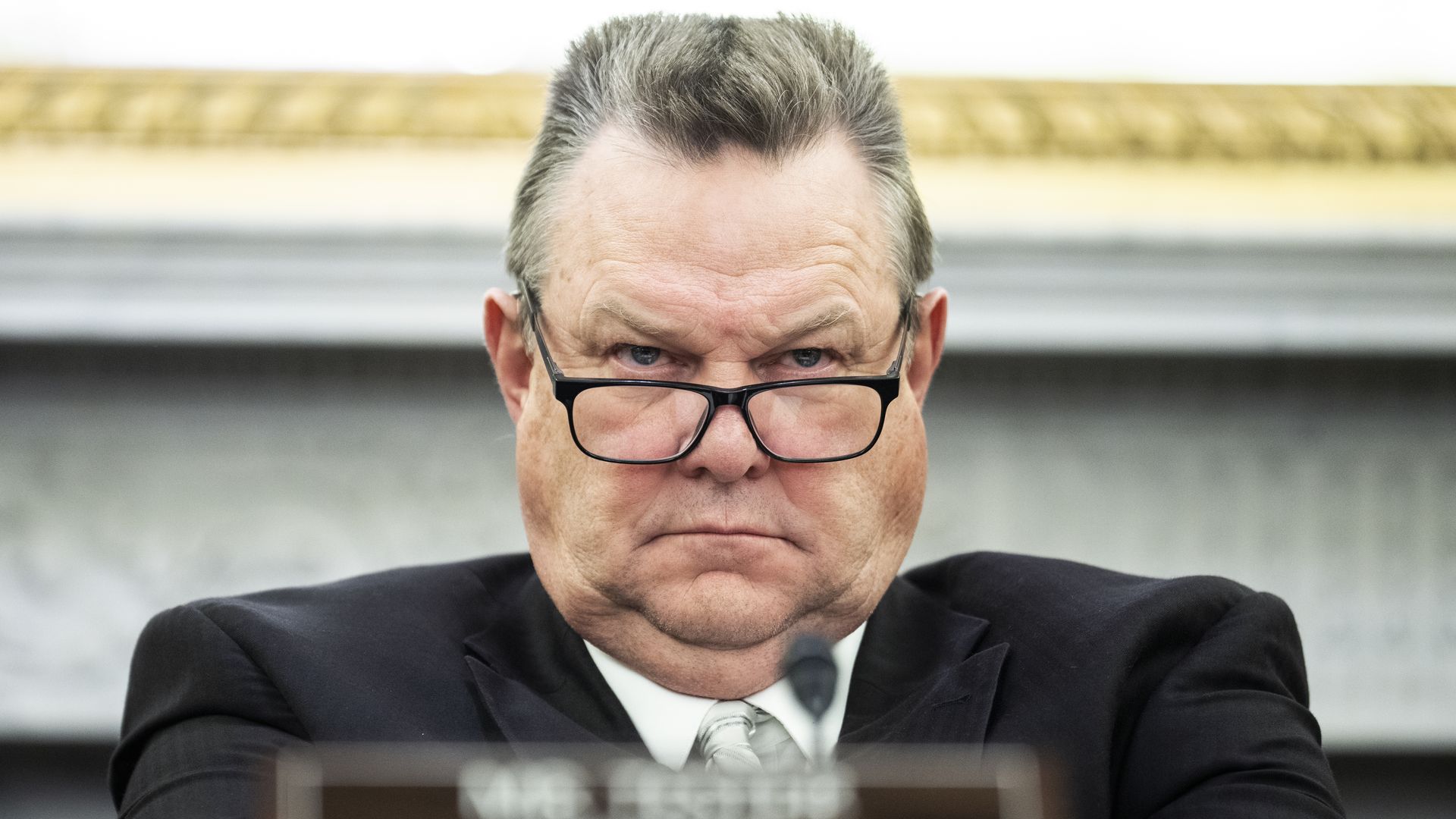 Sen. Jon Tester (D-Mont.). Photo: Tom Williams/CQ-Roll Call, Inc via Getty Images
Republicans are using their new House majority to jam endangered Democrats into politically sensitive votes, including a debate over so-called "woke" policies that the GOP is eager to inflame.
What's happening: Republicans are using the Congressional Review Act (CRA) and other procedural methods to force Democrats to either embrace President Biden's positions or buck their own party. That includes on issues such as ESG investing, crime, COVID-19 and clean-water regulations.
Why it matters: Senate Democrats face a brutal map in 2024, with three senators up for re-election in states former President Trump won in 2020.
"We're seeing some foxhole conversions here from those who are up in '24," Sen. Steve Daines (R-Mont.), the chair of the National Republican Senatorial Committee, told Axios.
"These are awfully hard votes to explain [to voters]," Senate Minority Whip John Thune (R-S.D.) added.
Driving the news: The Senate on Wednesday passed a CRA resolution of disapproval against a Department of Labor rule allowing retirement fund managers to take "environmental, social and governance," or ESG, factors into account when investing.
Sens. Joe Manchin (D-W.Va.) and Jon Tester (D-Mont.) — the only Senate Democrats up for re-election in states Trump won by double digits in 2020 — voted for the resolution.
Sen. Sherrod Brown (D-Ohio), the third vulnerable Trump-state Democrat, voted against it.
What they're saying: "Republicans want to show that they don't like these things when in fact, they're the ones that are going against free markets," Brown told Axios. "There's a little hypocrisy there."
Senate Majority Leader Chuck Schumer (D-N.Y.) wrote in a Wall Street Journal op-ed: "ESG opponents are trying to turn it into a dirty acronym, deploying attacks they have long used for elements of a so-called woke agenda. They call ESG wokeness … I say ESG is just common sense."
Between the lines: The resolution passed the House on Tuesday with only one Democrat supporting it: Rep. Jared Golden (D-Maine), whose district voted for Trump by seven points.
President Biden has promised to veto the measure. He'll likely have to keep his pen out in the coming weeks.
Republicans have long anticipated the veto, with GOP sponsors of the resolution telling Axios' Nick Sobczyk the legislation is intended as ammunition for lawsuits aiming to strike down the rule in the courts.
The big picture: Republicans also want to show their voters they're standing up to the president and are eager to notch legislative wins — even symbolic ones — to hold their coalition together.
The ESG resolution is just the opening salvo. Several other resolutions also need only a simple majority to clear the Senate — rather than the usual 60 votes.
That means more difficult votes for some Senate Democrats, even if the legislation ultimately will be vetoed by the president.
What to watch: Republicans and a small group of Democrats are poised to hand Biden several other Senate defeats in the coming weeks.
Manchin and Sen. John Hickenlooper (D-Colo.) have told Axios they plan to vote for Sen. Roger Marshall's (R-Kan.) resolution ending the COVID national emergency declaration.
Manchin also supports a resolution blocking a D.C. law that reduces some maximum penalties for violent crimes. Sen. Angus King (I-Maine) told Axios he "likely" will vote for it, and many other Democrats said they are considering doing the same.
Manchin told Axios on Wednesday he will also vote for a GOP resolution to block the Biden administration's Waters of the United States rule, which he called "overly burdensome" to economic activity in West Virginia. Tester also voiced hostility toward the "damn rule" in an interview.
Go deeper: Biden's potential ink-stained March
Source: Read Full Article