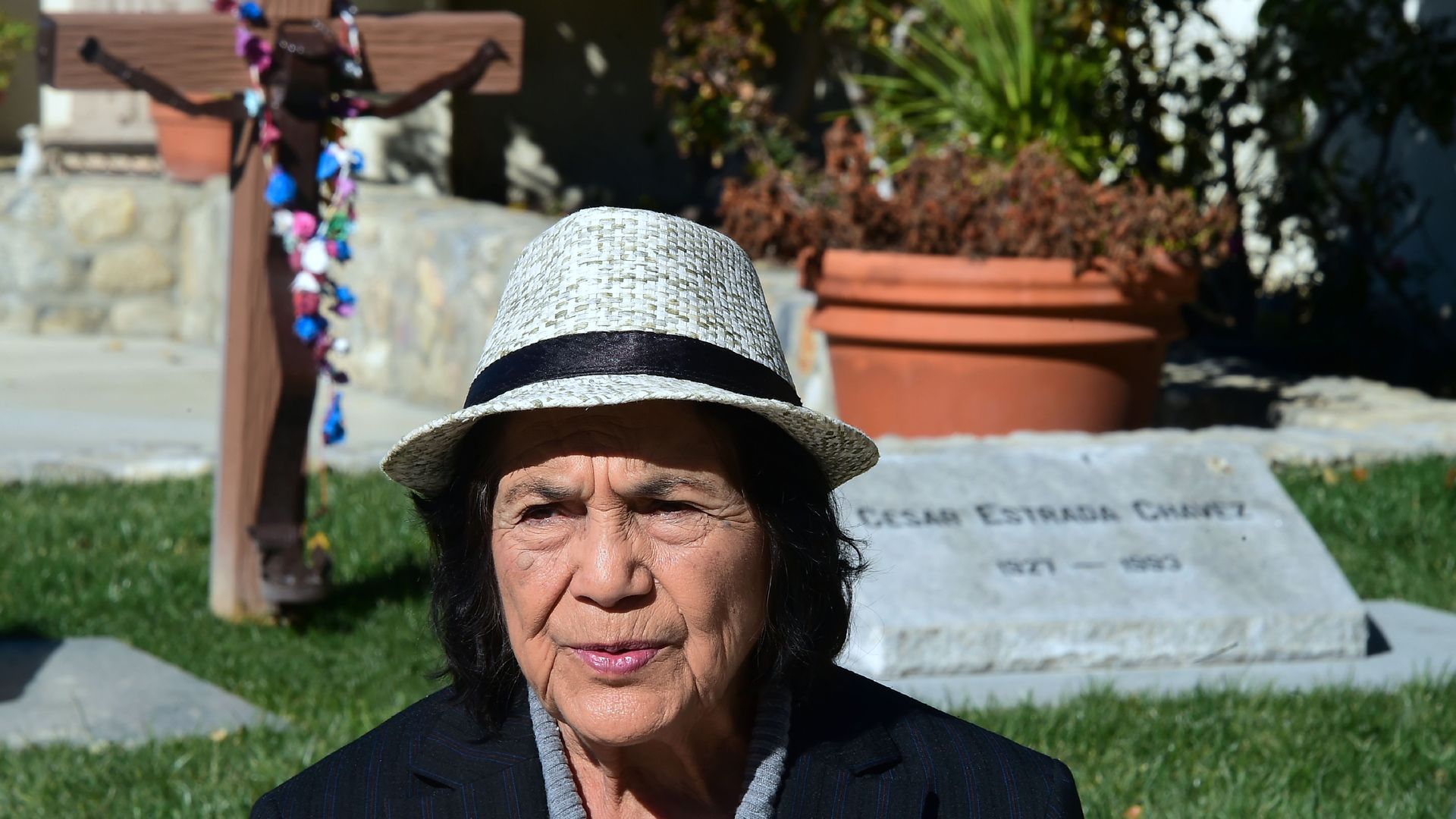 Civil rights activist Dolores Huerta visits the graves of Cesar and Helen Chavez at the César E. Chávez National Monument in Keene, California, on January 31, 2017. Photo: Frederic J. Brown/AFP via Getty Image
Few statues honoring Latina civil rights and other influential Hispanic women have been erected in the U.S. or Latin America.
The big picture: Women of history are rarely memorialized in public spaces, and even fewer Latinas and other women of color are honored by public monuments, data shows. For Women's History Month, Axios Latino went searching.
What we found: An Axios review of public monuments and historic sites in the U.S. found few honoring Latinas of history outside of religious figures like La Virgen de Guadalupe or Virgen de la Divina Providencia.
We couldn't find a monument or marker memorializing Maria Moreno, a Mexican American/Mescalero Apache labor organizer who once spoke alongside Martin Luther King Jr. and John F. Kennedy.
There is a sculpture of Puerto Rican poet Julia de Burgos in the Dominican Republic, but we struggled to find any kind of monument honoring her in the U.S..
Dolores Huerta is honored with a statue in downtown Napa, California, but it's with United Farm Workers co-founder Cesar Chavez. Others have streets and schools named after them. And some, including Emma Tenayuca, have their stories told through markers, but they are often hard to find.
The intrigue: It's easier to find a sculpture of a mermaid in the U.S. than of any American-born woman who actually is part of this world, Axios' Chelsea Brasted writes.
Monument Lab, a nonprofit that in 2021 counted who and what Americans honor in their public art, found 22 sculptures of mermaids to 21 honoring abolitionist Harriet Tubman.
By the numbers: Of the 50 historical figures who have the most recorded monuments in the U.S., only three are women, and only five are Black or Indigenous, according to Monument Lab data. Half are people who enslaved others.
Only 6% of American monuments feature real women as their subjects, according to research by Sierra Rooney, assistant professor of art history at the University of Wisconsin-La Crosse.
Zoom out: Although there is no region-wide database for monuments in Latin America, local data shows an absence of statues recognizing real-life women.
In São Paulo, Brazil, only eight of more than 140 statues honor women; in Bogotá, Colombia, it's also eight, but out of more than 700 monuments.
In all of Chile, real-life women represent 4.7% of monuments — but half of those are dedicated to a single figure, Nobel Prize-winning poet Gabriela Mistral.
In Latin America's biggest capitals, various statues and monuments recognize real-life women, but most are dedicated to group iconography.
In Santiago, Chile, for example, a massive monument to "women in memory" represents all female victims who fought against the last dictatorship (1973-1990). Paraguay has the Las Residentas monument in honor of all women who rebuilt the country after a devastating 19th-century war.
Many others are generally dedicated to Independence fighters, such as Cochabamba, Bolivia's statue to the Heroínas de la Coronilla — 300 or so primarily Indigenous rebels who took up arms against the Spaniards — or Mexico City's "walkway of heroines" with statues of Leona Vicario and Josefa Ortiz de Domínguez.
Subscribe to Axios Latino to get vital news about Latinos and Latin America, delivered to your inbox on Tuesdays and Thursday.
Source: Read Full Article