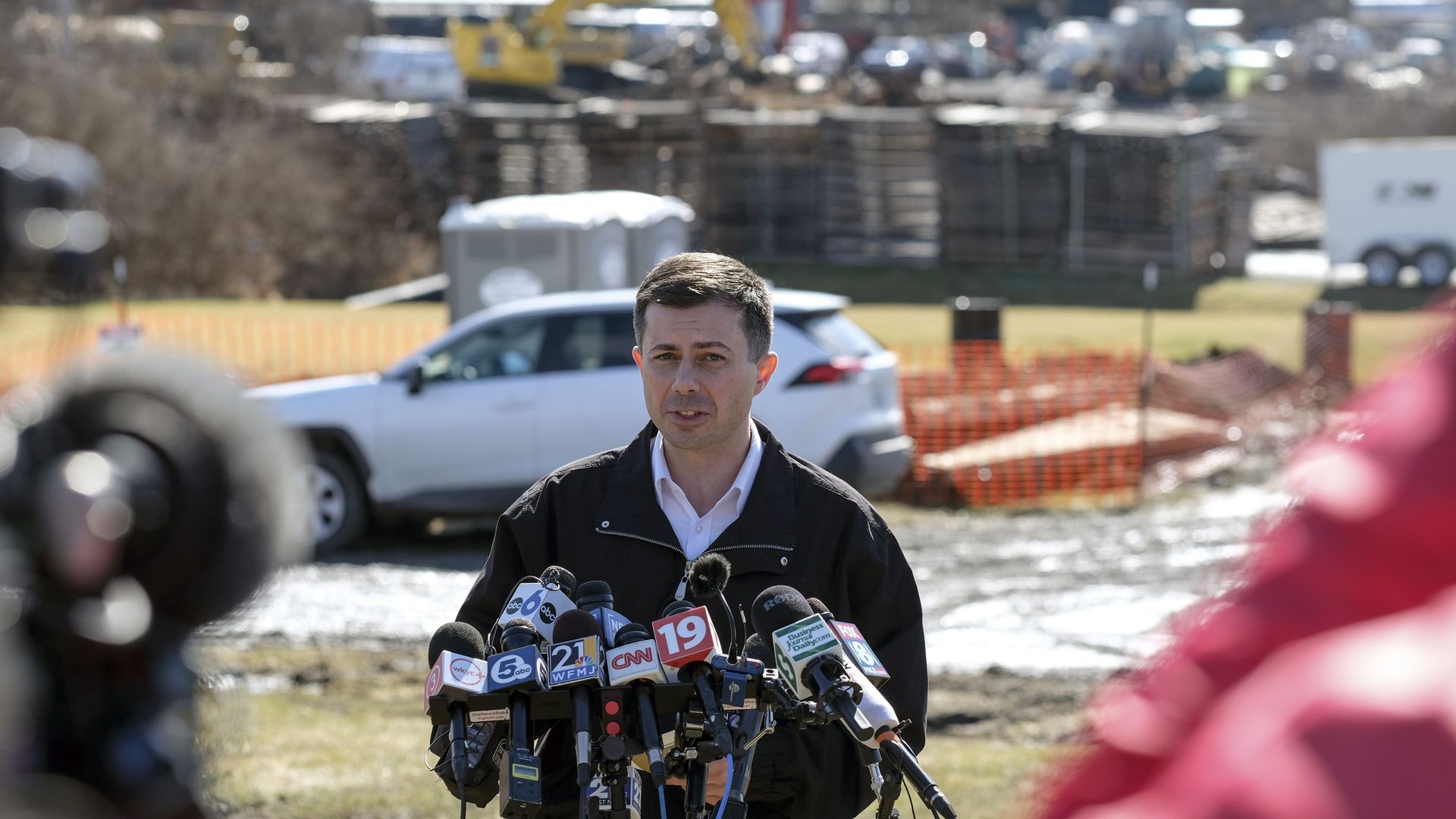 Transportation Secretary Pete Buttigieg during a news conference near the site of the Norfolk Southern train derailment in East Palestine, Ohio, on Feb. 23. Photo: Matthew Hatcher/Bloomberg via Getty Images
Transportation Secretary Pete Buttigieg told CNN Sunday he "failed to anticipate the political fallout from the toxic train derailment" in Ohio, as he pushed back on Republican criticisms of his response to the incident.
Why it matters: The 41-year-old faces a House Republican investigation over the Biden administration's response to the Norfolk Southern train derailment and Sen. Marco Rubio (R-Fla.) has pressed President Biden to seek Buttigieg's resignation over the matter, per Axios' Andrew Solender.
What he's saying: Buttigieg said in his CNN interview that although it wouldn't have made a major difference in the aftermath of the incident and no other transportation secretary had visited a derailment site, it would've likely helped residents if he had gone to East Palestine sooner than Feb. 23.
"Sometimes people need policy work, and sometimes people need performative work," he told CNN's Edward-Isaac Dovere. "And to get to this level, you've got to be ready to serve up both."
Yes, but: Buttigieg rejected criticisms he's received from former President Trump and other Republicans about his handling of the matter.
"It's really rich to see some of these folks — the former president, these Fox hosts – who are literally lifelong card-carrying members of the East Coast elite, whose top economic policy priority has always been tax cuts for the wealthy, and who wouldn't know their way around a T.J. Maxx if their life depended on it, to be presenting themselves as if they genuinely care about the forgotten middle of the country," Buttigieg said.
"You think Tucker Carlson knows the difference between a T.J. Maxx and a Kohl's?"
Worth noting: Buttigieg said claims that he only visited the Ohio crash site because Trump had one day earlier were "bulls**t" as he was "already going to go" to East Palestine.
He said of Trump that it's "somewhat maddening to see someone who did a lot try to gut not just rail safety regulations, but the EPA, which is the number one thing standing between that community and a total loss of accountability for Norfolk Southern, and then show up giving out bottled water and campaign swag?"
More from Axios:
Another Norfolk Southern train derails in Ohio, no hazardous materials aboard
Ohio derailment prompts calls to investigate federal oversight of trains
Ohio crews release toxic chemicals from derailed train
East Palestine's record of devastating derailments
Source: Read Full Article