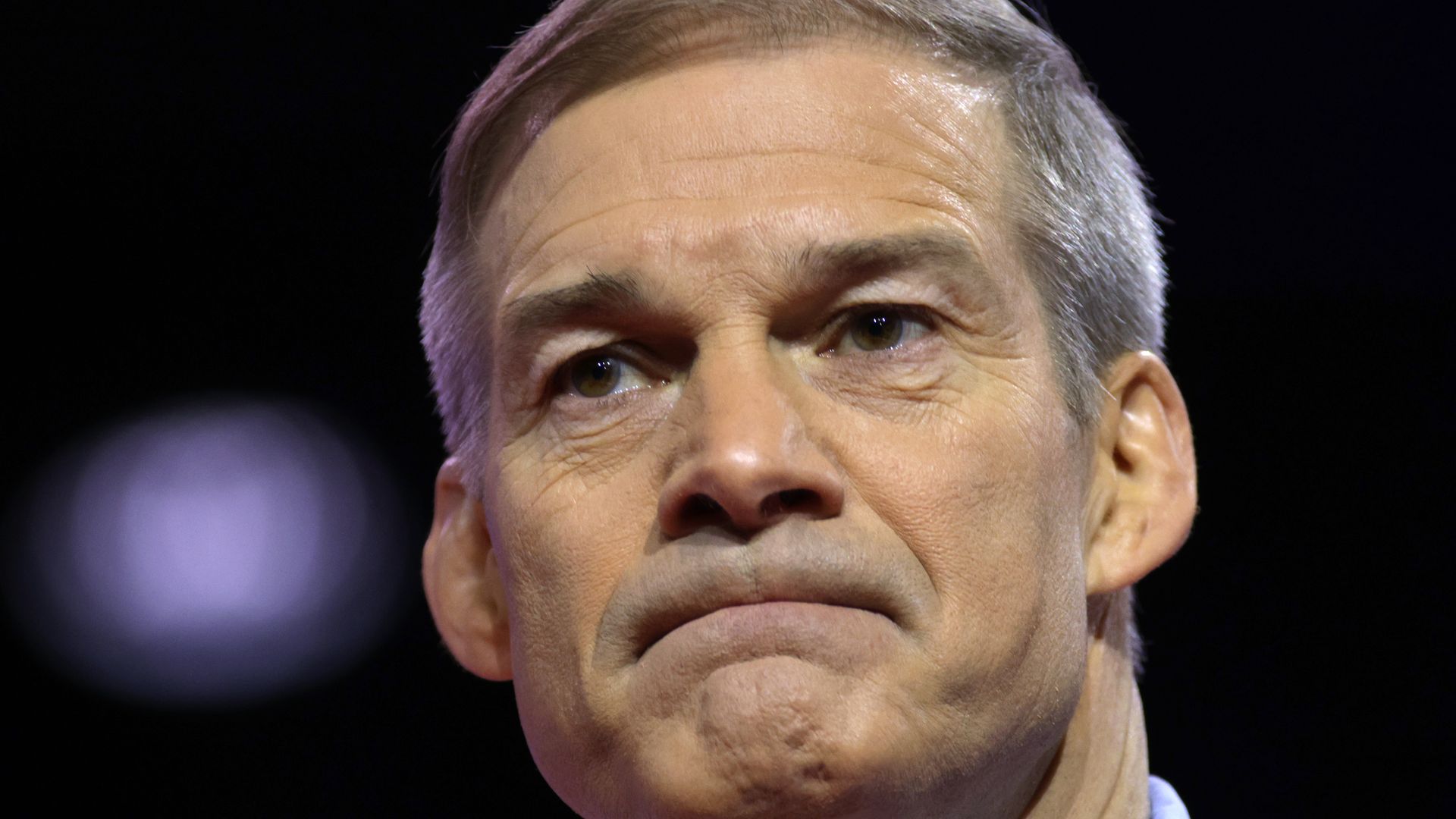 U.S. Rep. Jim Jordan (R-OH). Photo: Alex Wong/Getty Images
New York District Attorney Alvin Bragg is suing House Judiciary Chair Jim Jordan (R-Ohio) over a "brazen and unconstitutional attack" on his ongoing investigation into former President Trump, according to a new court filing.
Why it matters: Bragg is striking back against a campaign by Trump and his allies, who have sought to undermine Bragg by accusing him of political motivations in his prosecution of Trump over alleged hush money payments.
The filing claims that starting March 20, Jordan "began a transparent campaign to intimidate and attack" Bragg, demanding confidential documents and testimony.
The filing claims that Bragg has received multiple death threats — including "a package containing suspicious white powder."
Between the lines: The demands and subpoena of former prosecutor Mark Pomerantz "seek highly sensitive and confidential local prosecutorial information," the filing reads.
"Basic principles of federalism and common sense, as well as binding Supreme Court precedent, forbid Congress from demanding it."
This is the first of recent House Republican subpoenas to be litigated in court.
What they're saying: "First, they indict a president for no crime," Jordan tweeted in response to the lawsuit. "Then, they sue to block congressional oversight when we ask questions about the federal funds they say they used to do it."
How we got here: The suit comes a day after the Judiciary Committee announced plans to hold a field hearing in Manhattan focused on violent crime and "how Manhattan District Attorney Alvin Bragg's pro-crime, anti-victim policies have led to an increase in violent crime," according to the advisory.
Trump pleaded not guilty last week to 34 counts of falsifying business records.
Two days later, Jordan subpoenaed Pomerantz — a former New York prosecutor who resigned in protest of Bragg's initial unwillingness to pursue charges against Trump.
Bragg and three Congressional panel chairs have exchanged several sharply worded letters in recent weeks regarding House Republican demands for information.
Source: Read Full Article